Maternity photos are not just a way to capture the beauty of pregnancy, but they can also be an opportunity to involve your loved ones in the process and make the experience even more special. To bring you expert insights on this topic, we spoke to Lauren Scott Studios, an experienced maternity photographer with years of experience in capturing the essence of pregnancy and family connections.
In this article, Lauren shares her tips and advice on how to involve your partner and children in maternity photos, and create lasting memories that you can cherish for years to come. Whether you're a first-time mom or expecting your third child, this article is relevant to anyone who wants to celebrate the joys of pregnancy through beautiful and meaningful photography.
Planning and Preparation
When it comes to maternity photos, involving your partner and children can make the experience even more special and meaningful. However, it's important to plan and prepare ahead of time to ensure that everyone is on the same page and the shoot goes smoothly.
Involve your partner and children in the planning process
To involve your partner and children in the planning process, consider asking for their input on things like outfit choices, location options, and any props or accessories they would like to include in the photos. This can help everyone feel more invested in the shoot and excited about the final results.
When it comes to outfit choices, consider coordinating colors or themes to create a cohesive look for the entire family. It can also be helpful to choose comfortable and breathable fabrics, especially if the shoot will be outdoors.
For location options, consider places that hold special meaning for your family, such as a favorite park or beach. You can also incorporate props such as books, toys, or signs with personalized messages to add a personal touch to the photos.
Posing and Interactions
The importance of posing and interactions
Maternity photos with your partner and children are a great way to capture your growing family during this special time. While posing for these photos can feel intimidating, it's important to remember that the goal is to capture authentic moments that showcase your family's love and connection.
Tips on how to pose and interact
One way to achieve natural and candid photos is to focus on interactions between family members. Encourage your partner and children to interact with your baby bump, such as touching or kissing it. You can also try different poses, such as holding hands or hugging, to create a sense of togetherness. Remember to keep it lighthearted and have fun with each other!
Additionally, it's important to communicate with your photographer about any specific poses or shots you have in mind. They can provide guidance on posing and also suggest creative ideas for capturing meaningful moments between your family.
Making everyone comfortable
It's common for partners or children to feel nervous or unsure about being in front of the camera. To help them feel more comfortable, involve them in the planning process and make sure everyone feels heard and included. This can also be a good opportunity to schedule a pre-shoot consultation with your photographer to get to know each other and build rapport.
Remember to also plan for breaks during the shoot, especially if you have young children. Bring snacks and water, and take breaks as needed to keep everyone happy and energized.
Including Special Items
Including special items in your maternity photos can add a personal touch and make the experience more meaningful. It's a great way to capture memories and milestones, and to involve your partner and children in the process.
Incorporate meaningful items
To incorporate special items into your maternity photos, consider using props or accessories that represent the baby or your family. You can bring baby clothes, shoes, or toys to the shoot, or include ultrasound images in your photos.
Another option is to incorporate sentimental items that have personal meaning to you and your family. For example, if you have a favorite blanket or piece of jewelry, consider wearing it or wrapping it around your baby bump. Including items like these can add a unique and special touch to your photos.
When choosing items to include in your photos, make sure they are meaningful to you and your family. Don't feel like you have to include something just because it's trendy or popular. The goal is to create photos that represent your family and your personal style.
With these tips in mind, you can create beautiful and meaningful maternity photos that you and your family will treasure for years to come.
Keeping it Fun and Relaxing
Having your partner and children in your maternity photos can make for beautiful and meaningful memories, but it's important to make sure everyone is comfortable and having fun during the photo shoot. Stress and tension can show up in the photos, so keeping things light and enjoyable is key.
One way to keep things fun is to involve your partner and children in the planning process. Allow them to choose outfits or locations, and make sure they feel excited and invested in the shoot. During the photo shoot, consider playing games or having snacks on hand to keep energy levels up and make everyone feel more at ease. Remember to take breaks as needed and to be patient with young children, who may need extra time to warm up to the idea of having their picture taken.
Encouraging natural interactions and poses can also help to create a relaxed and comfortable atmosphere. Rather than forcing stiff poses, try to capture candid moments of your family interacting and having fun together. These photos can often be the most meaningful and special.
Final Touches and Preparations
Preparing for a maternity photo shoot with your partner and children requires some extra attention to details to ensure a successful and enjoyable experience for everyone involved. Here are some final touches and preparations to consider before the shoot.
Get a good night's sleep: A good night's sleep is essential to look fresh and relaxed in your photos. Encourage your partner and children to get plenty of rest the night before the shoot.
Have a healthy snack: Bring some healthy snacks and water to keep everyone energized and hydrated during the shoot. This will help keep spirits high and keep everyone in a good mood.
Bring essential items: Make sure to bring any necessary items for the shoot, such as extra outfits or props. If you have young children, bring along some toys or items that will keep them entertained while they are waiting for their turn to be photographed.
Communicate with your partner and children: Discuss the plan for the shoot with your partner and children beforehand. Make sure everyone understands what is expected of them and what they can expect during the shoot. This will help to minimize stress and anxiety and make the experience more enjoyable for everyone.
Conclusion
Capturing the joy and excitement of your pregnancy is a beautiful way to celebrate this special time in your life. By involving your partner and children in your maternity photos, you can create even more meaningful and memorable images.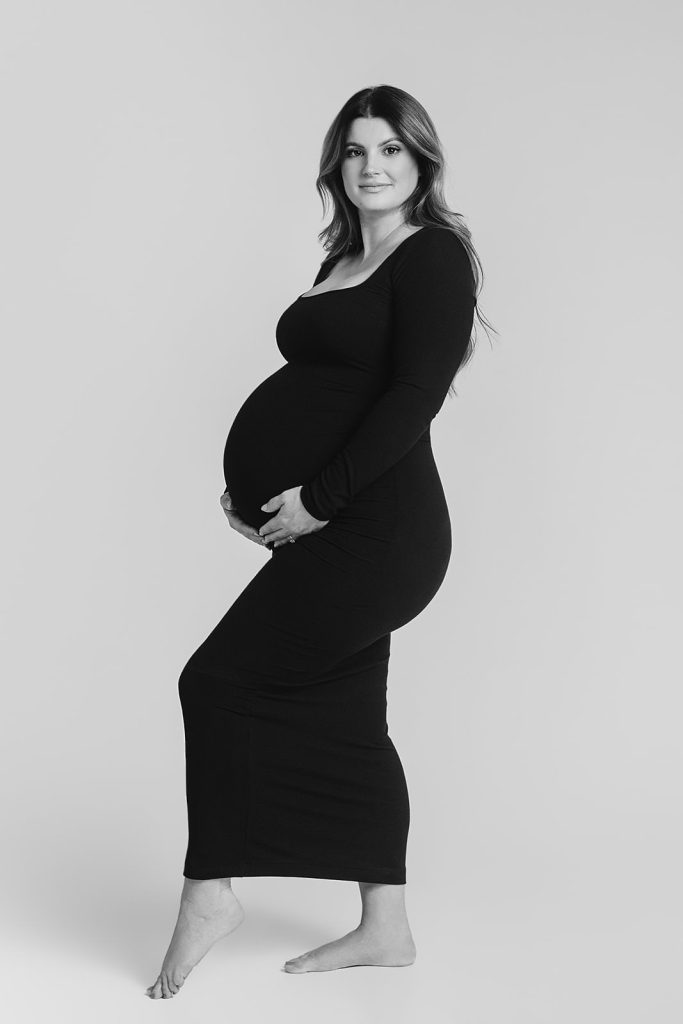 Planning and preparation, natural posing and interactions, including special items, and keeping the shoot fun and relaxing are all important factors to consider. Remember to also take care of final touches and preparations such as getting enough sleep and bringing essential items.
By following these tips, you can create a beautiful and fun photo shoot that truly captures the essence of your family and the love you share. Don't forget to cherish these moments and enjoy the experience with your loved ones.